Take It To Tar Heel! Call Tar Heel Auto Glass First -
Yes, we can handle the insurance claim process for you!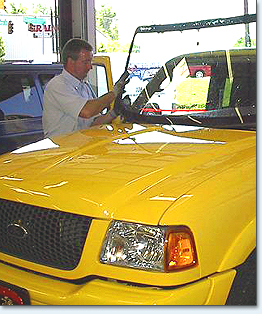 We will contact your insurance company, assist with reporting your insurance claim and handle the billing procedures for you. In North Carolina, you - not your insurance company or insurance claim representative - have the right to choose your auto glass shop.
Keep in mind when calling in your auto glass claim, in most cases you are not speaking directly to your insurance provider - You are in fact talking with a third party network representative that is handling the claims processing for your insurance provider. These network groups try really hard to steer you to one glass shop over another since they have contracted with certain glass shops for the cheapest prices (which may mean aftermarket glass and adhesives for the consumer). In North Carolina you have the right to choose any glass shop to install your auto glass. Make sure it is a glass shop that you trust. Think of your auto glass replacement as a safety feature on your vehicle. Would you want the cheapest auto glass and the cheapest materials and the cheapest labor for your vehicle?
As an insured, your insurance company cannot reject your claim or indicate that you must pay "out of pocket" for an auto glass installation from the glass shop of your choice. When choosing your glass shop, remember to consider experience in the auto glass industry, product and workmanship warranty coverage as well as original equipment quality glass replacement parts.
Tar Heel Auto Glass has been a family owned and operated business since 1978. We take pride in our professional workmanship and guarantee prompt, friendly customer service. We can repair your windshield's chip before it gets any larger, install a new windshield, door glass, side glass, or back glass too. We work on all types of cars, trucks, and heavy equipment - domestic and foreign! Let our knowledgeable team of professionals take care of all your automotive glass needs.
Auto Glass Replacement

Windshield Chip Repair

Official NC Inspection Station

Power / Manual Window Repair

Power/ Manual Door Lock Repair

Rear View Mirror Replacement

Side View Mirror Replacement

Windshield Wiper Blade Replacement

Window Film Removal
As a licensed and insured business for over thirty years, Tar Heel Auto Glass has an outstanding commitment to customer satisfaction and quality. We have several mobile units that are fully self-contained to handle most auto glass installations. For customer convenience, we offer mobile service! Call us at (336) 759-9900 for a free auto glass installation estimate and schedule your appointment today!
For your convenience Tar Heel Auto Glass accepts Master Card, Visa and American Express. We guarantee highly competitive pricing and a safe, quality installation of your new auto glass. As an important structural feature of your car, the windshield allows your airbag to deploy properly. Remember, when shopping around for a windshield, the lowest price doesn't guarantee the best value. Correct installation of your windshield as well as original equipment quality glass replacement parts are vital. As an important component of your vehicle, why take any chances?
At Tar Heel Auto Glass we stock top quality auto glass parts from the best names in the industry. We not only have the original equipment quality glass parts you want, but also the best installation materials and technical training to do the job right, the first time! Don't let your insurance company steer you to an inexperienced, second rate auto glass shop - Call our team of professionals at Tar Heel Auto Glass today - It is your choice!