Get The Strength You Need For Structural Safety - Take It To Tar Heel - Tar Heel Auto Glass employs glass technicians who use the highest of safety standards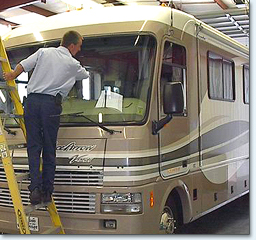 Q. What holds my windshield in place?
A. Auto makers and glass replacement technicians knowledgeable of safety standards use urethane adhesive to bond the windshield to the body of your car.
Q. What does the windshield do for my safety?
A. The windshield provides major structural strength. It helps support the car's roof in the event of a roll-over accident, attempting to protect the passengers in your vehicle. If the windshield is installed incorrectly with an unsafe adhesive, the air bag system may not perform properly and the occupants may be ejected. Inferior glass products are not as durable as original equipment quality glass products and could have the same negative effect in a rollover accident. Don't take chances - ask about original replacement auto glass parts and adhesive products when considering auto glass replacement services.
Q. How do I know the original windshield installation was safe?
A. There are government and manufacturer requirements imposed on motor vehicles. Vehicle manufacturers must certify each make and model of car to a Federal Motor Vehicle Safety Standard roof crush test (FMVSS 216) and a windshield retention crash test (FMVSS 212), as well as to their own standards which may exceed government requirements. Both the adhesive and the installation process must pass these destructive tests.
Q. Will my replacement windshield give the same protection as the original?
A. Most auto glass installers are concerned about passenger safety. Tar Heel Auto Glass uses an adhesive to replace your glass with bond strength equal to that of the manufacturer's original installation. For structural safety and quality, we install original equipment quality replacement auto glass parts. Some auto glass installers use replacement adhesive, inferior glass products, and procedures that do not pass safety standards testing. When considering your auto glass replacement shop, don't take any chances - Ask about safety concerns!